All over the world, during May, charities will be working to promote awareness of Bladder Cancer.
While we will have some programs for the entire month, we are focusing heavily on the first week, and we are asking you to help us by pushing out our two new Bladder Cancer awareness videos on your social media!
Please Post These Two Links On Monday the 1st May
These two fifteen second ads will also appear on Channel 9 and Channel 10 in Australia during the first week of May (1st until the 7th)
PLEASE POST THESE LINKS ON ALL YOUR SOCIAL MEDIA
ON MONDAY 1st MAY!
PLEASE SHARE WITH YOUR FRIENDS AND ASK THEM TO REPOST!
Imagine the impact we will have if we all do it together on Monday with reposts going all week?!!!
HELP US MAKE A BIG IMPACT TO REDUCE MORTALITY from bladder cancer.
Booklets, Posters, Procedure Sheets and more are available for you to download here: www.bladdercancer.org.au/bladder-cancer-resources/free-literature
All our awareness videos are here for you to post on Social Media, TikTok etc: www.bladdercancer.org.au/bladder-cancer-resources/bladder-cancer-awareness-videos
Freeway Bladder Cancer Awareness Ads
We have also taken 5,000 spots on freeway advertisement screens in Melbourne. Look out for our ads (don't crash!) on Punt Rd, Mulgrave Freeway and the West Gate Freeway during the first week of May.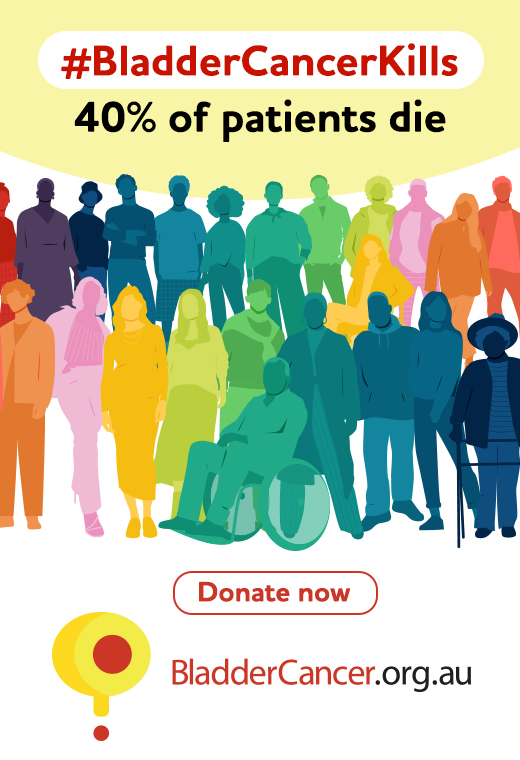 We spent all our money on these campaigns!
PLEASE DONATE here: https://www.bladdercancer.org.au/donations